shirt: mother's closet // button down: Old Navy // blazer: Thrift Store // Jeans: DIY // hairclip: boyfriend's sister // socks: birthday present // shoes: forever 21




Hooray! Finally another outfit post! After a week of battling the worst cold ever, I finally felt good enough to go outside and take some photos (should read: felt good enough to put actual clothes on). Seriously, the past week I've been confined to the oversized chair in the living room in my pajamas, browsing the internet for hours while watching tv and coughing and sneezing nonstop. It's not been fun. Today I'm still sniffly and coughy and my voice sounds pretty sickly, but I'm feeling pretty good. My head is pretty congested, but hey, at least I can run around in the snow and feel okay, right?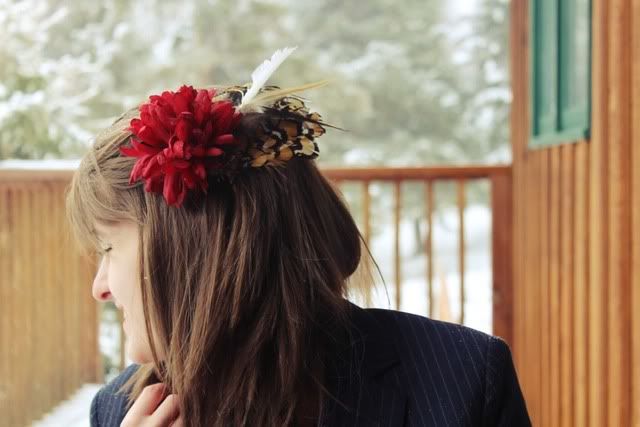 On to the outfit! These jeans were originally flare jeans, but I have an identical pair, and since my skinny jeans recently got a hole in them, I decided to turn these into skinny jeans! They're obviously not that skinny currently, mostly because I was a little nervous that it wouldn't turn out right, but they ended up looking (and feeling) so awesome that I'm going to make them just a tad bit tighter. Lily from Love Charles Vintage has the suuuuper easy tutorial right here! It only took me ten minutes to do, and that was just because my sewing machine is old and likes to freak out on me constantly. And even if you don't change up your jeans, I highly suggest you check out her blog. She's awesome!


As for my hair clip, about a month ago Matt's mom cleaned out her craft closet and let me go through all the stuff she was getting rid of. Let me tell you, it was like Christmas for Lauren. Well one of the things I got was Matt's sister's shoe box filled with stuff to make headbands and hair clips. A long time ago she made them and sold them, and I got all the left over supplies! I added a flower from my own pile of junk and was ready to go.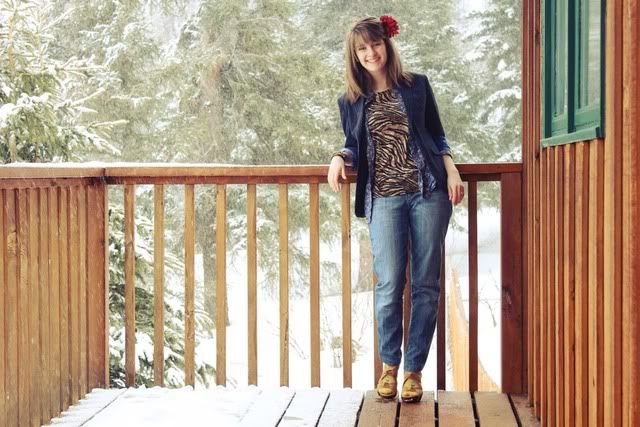 My grandma has a quote that she hung in a picture frame and I just love it to death. "One of the great things about being disorganized is that one is constantly making exciting discoveries." And that is so so true! I love looking through my on shoe boxes filled with stuff and finding things I forgot I even had. Also, since junior high I've had a memory box and sometimes I look through it and reminisce over my life. Hoarding may seem like a bad thing, but it's really just a way to document life. See? It's definitely a positive characteristic. ;)




On a completely different subject, I just laughed at myself when I realized I was wearing socks with my heels. It's not that I didn't plan to wear them together. Quite the opposite. I thought socks with sandals looked good! (And the sad thing is, they do). Why is this funny? My mom and I always make fun of my dad for wearing socks with his sandals. Oh, you know those dads. Turns out I'm doing the exact same thing! Ah well, like father like daughter.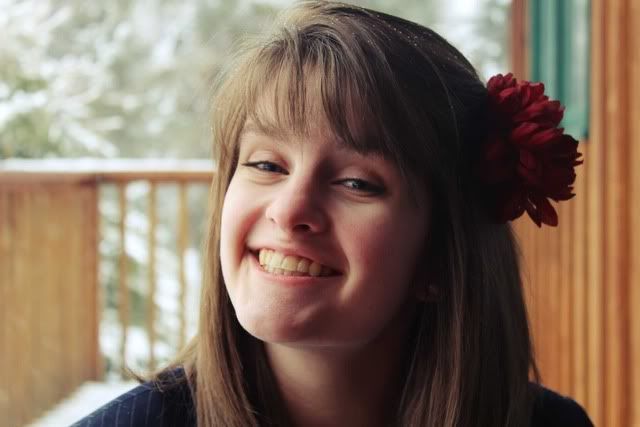 I'm really glad I'm feeling better, because this week is going to be especially exciting! Tomorrow I'm taking my friend's senior photos, and then next Saturday I'm taking someone else's portraits (I'm not going to say who just yet, but let me just say it's a huge huge honor and I cannot wait to share it with you guys!). I just love love love taking photos for people. If I never got paid I think that would be just fine because photography (and being able to share it with others for others) fills me with such joy. I just love it so much.

I hope you all have a great Easter holiday!

p.s. I just looked outside and it's snowing so hard right now! That's okay with me because Alaska needs only four more inches until they beat the state record for most snowfall. It's been a crazy snowy year. But after we reach the record, the snow had better all melt because I'm ready for summer.