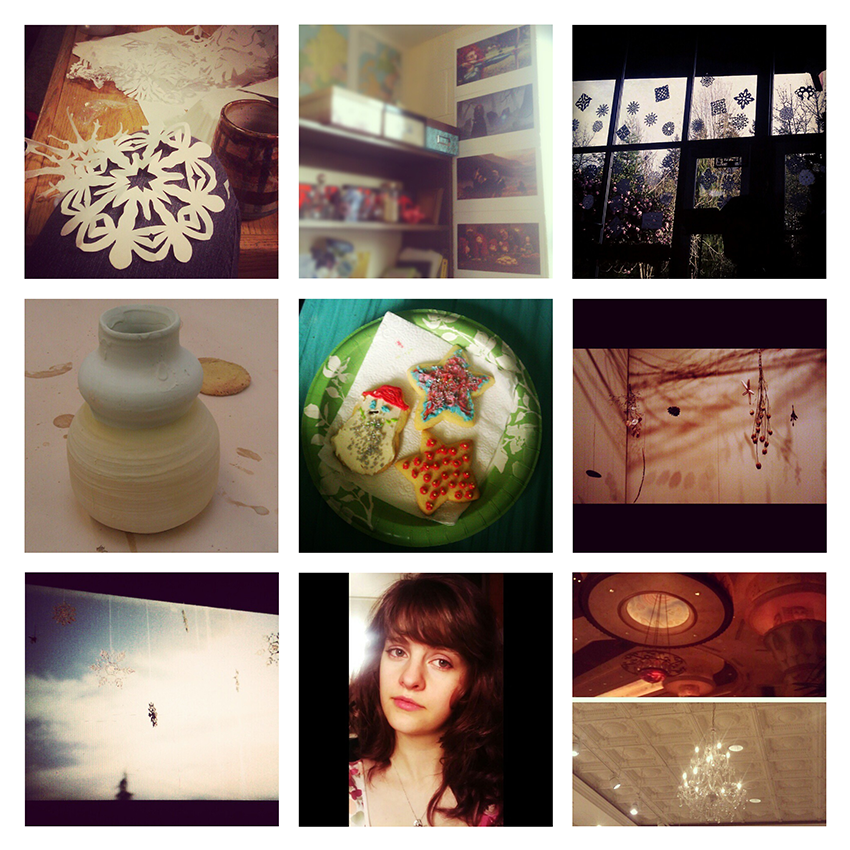 1. Chilling out at the dorm Christmas party drinking hot chocolate (out of a mug I made!) and making snowflakes. My roommate Annette is amazing at making snowflakes she's been helping me make some pretty cool ones. Our window is currently covered in our snowflake creations.

2. Finally hung up the Brave posters Matt got for me. I seriously loved all the art in that movie. Looking at the art makes me want to go to Scotland and Ireland so badly.

3. Snowflakes in the common areas! Courtesy of all the awesome people living in our dorm.

4. Glazing a random pot. I have just a couple more things I need to glaze, but I'm so sad ceramics is over. My teacher was sad I couldn't come back next semester, but one day I shall take all the ceramics classes. Even though some days were really frustrating, I loved being able to create things that I use in real life. It's practical art.

5. Making Christmas cookies! I might have eaten these all in one sitting.

6. Shadow play. This was a cool display at a senior art exhibition. I need to go back and take real pictures there.

7. Snowflakes everywhere! Oh my goodness, I took a lot of pictures of snowflakes this week.

8. Dressing up all fancy to celebrate the end of the semester by eating cheesecake with awesome people!

9. Forever fascinated by interesting ceilings. Whenever I finally get my own house, you can bet the ceilings will be awesome.


As always, you can follow my adventures on instagram @impulsings. Hope you guys have a fantastic week!